As a matter of fact I have delegated to few dapps of Steem Blockchain and few individual groups who are supporting Steemians by the their criteria.
While this are the applications/groups that I have delegated to.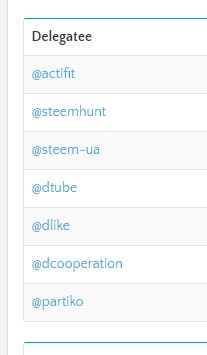 While Actifit which you already know how it works
Steemhunt : Users hunt products and earn rewards as well. 
Steem-Ua: You also know how it operates.
Dtube: Its a video sharing platform on Steem Blockchain and helps dtubers by upvoting  good quality contents and moving them forward in Steem Blockchain.
Dlike: It is our (Steem) version of Pinterest and usual posts can be done as well. 
Dcooperation: It is a group that supports Dtubers and shows them the right way in various ways. 
Partiko: It is a mobile app which interface Steem Blockchain and has been getting much more focus recently for its features and it also gives points and those points can be used as Upvoting your posts or use them once SMT gets launched they will be trade able for those as well.