Actually writing seems to be fun to me maybe it's because I love writing and it becomes very difficult for you to stop what you love doing even though you might not need any means of motivation or incentive to make you do what you love doing.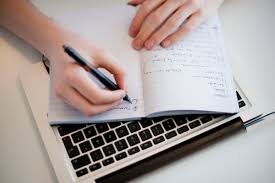 Sometimes, my inspiration comes naturally from my mind maybe by thinking about something which pops into my mind. The best way to voice it out is by writing. This is why I always love staying at quite places where I won't be disturbed by anyone because a cool and silent environment makes me think more whenever I intend to write and whenever I write articles. This feeling mostly occurs in the morning and night though maybe because I am always busy with other activities in the afternoon.
My source or inspiration can also come from the kind of experience I had encountered with people or environmental influence. There are also times where by the inspiration comes as a result of what I have heard or seen from what's happening around my environment or vicinity.
I actually write about anything that crosses my mind so as to share my thoughts with people around the world with the help of writing. I write randomly irrespective of any topics or niche that may be developed from my mind. I don't actually write articles whenever I am hungry or in bad mood because it really affects my level of concentration during writing. How do you expect my brain to come up with serendipitous articles when I am hungry?.. Nah.. It's not just possible.
I also write to earn money. What can be a great inspiration other than you getting rewarded with some cool cash after performing your tasks. The more the money, the bigger the source of inspiration 😀.
In conclusion and nutshell, my inspiration for writing actually varies depending on my schedule, free time, environment and monetary rewards. I actually write about anything that crosses my mind which has to do with motivating people or making people successful or making explicit tutorials via writing.
Thanks for reading and I hope this helps.