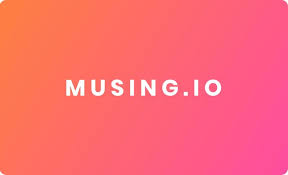 There are great benefits for asking questions on Musing. I will list these few benefits and explain my reasons for such options.
1) LEARNING : One of the best ways to learn new things or add more to your knowledge is by asking questions. Musing contains great experts who will help you provide quality answers to your questions as the answers are always well explained and relevant.
2) EARNING: Some people are on Musing because they want to earn more money easily just by asking questions. Musing is a decentralized platform on steem blockchain that will enable you to earn more Steemit tokens (steem, SP and SBD) just for asking questions. What are you waiting for? Start asking questions on Musing and start earning for your questions.
3) PROMOTING BLOCKCHAIN: I haven't come across any blockchain related question and Answer platform which is more easy and convenient to use other than Musing. Most popular question and answers websites like Quora, stack exchange and many others aren't built on blockchain but Musing is built on blockchain and this is one of the best ways of promoting the blockchain.
4) PROMOTING STEEM : We can #promo-steem by making use of Musing as this will bring in more people to Steemit since they can earn and learn by making use of Musing. Musing has a sharing feature where we can share our answers to our social media network which serves as a means of advertising Steemit to people who might have not heard about it. Why will you want to post your questions on some other websites when we have great experts on Musing which is built on the steem blockchain.
5) ADDING MORE TO MUSING DEVELOPMENT: The best way to make any platform successful is when the inhabitants of such platform strives for success to make the platform successful. This implies that we can make musing more developed and take musing to the next level by having more people asking questions and more people providing answers because this is what musing is all about. If everyone keep mute on musing, musing won't get to this stage. Let's increase the number of questions asked on Musing by staying consistent on the platform.
Thanks for reading and I hope this helps.