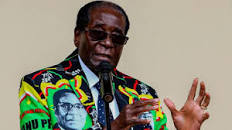 Robert Mugabe who died recently this month had actually brought about the saddened emotion of most citizens of Zimbabwe. It is known that Robert Mugabe spent lot of time in political administration of the Zimbabweans government making him to attain certain position and status in Zimbabwe. He was born in the month of February on the 21st in the year 1924 and he gave up the ghost on September 6 2019 (this year).
He was the prime minister of Zimbabwe from 1980 to 1987 and he attained the presidential post from 1987 to 2017. He chaired the Zimbabwe African National Union (ZANU) group from 1975 to 1980 and led its successor political party, the ZANU – Patriotic Front (ZANU–PF), from 1980 to 2017. Ideologically an African nationalist, during the 1970s and 1980s he identified as a Marxist–Leninist, and as a socialist after the 1990s. His policies have been described as Mugabeism.
To answer your question if the late Mugabe was a hero or villain is actually dependent on the below factors ;
#1 WE NEED TO KNOW WHAT HIS PEOPLE ARE SAYING ABOUT HIM: This will perfectly give you the best answer to your question as regards to Robert Mugabe either he was a hero or a villain. We actually need to know what people are saying about him most especially his relatives and the citizens of Mugabe. If the number of good comments or positive response turns out to be greater than the negative response, then he is truly a hero.
I came across a source on YouTube that shows how Mugabe the villagers of Mugabe were actually mourning him after death making them claim that he was a "father and hero to them".
#2 WE NEED TO KNOW HIS IMPACT IN HIS ENVIRONMENT OR COUNTRY: This is also an important factor to consider because both heroes and villains are making impact in their environment or community. The main difference is that one is impacting the world positively and one is impacting the world negatively.
I actually can't say much about the impact made by Mugabe because I am not a Zimbabwean but I am quite sure he impacted his country.
#3 CHECK OUT PEOPLE'S REACTION WHEN HIS NAME IS MENTIONED: The last but not the least is to check out people's expressions or reactions whenever his name is mentioned. It's either they feel sad that he is gone or they feel happy that he is gone. It simply dictates that if people feel very bad or sad after his loss whenever they hear or see his pictures or name, it shows that he is a hero and if the opposite happens, then it's otherwise.
In conclusion, I don't really think we need to be concerned whether a dead man is a hero or not. I think we need to be more focused on our lives and see what positive impact we can also make so that we become a hero in the lives of people.
Thanks for reading and I hope this helps.