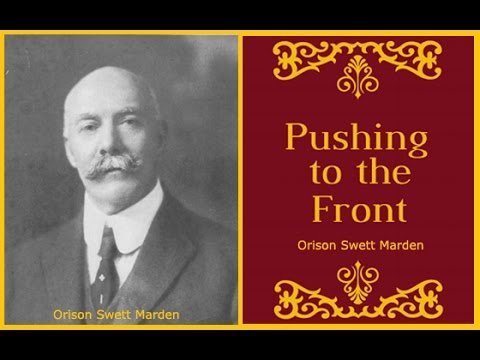 One person that inspires me a lot is Orison Swett Marden (11 June 1848 - 10 March 1924). Even though I have never met him in person, his book Pushing To The Front which was written in 1894 inspires me a lot to be a better version of myself continually. Marden was one heck of a hard worker and a businessman. His hotel business which was already successful caught fire once and he lost thousands of pages of manuscript for a book he was working on, that was very close to completion.
Here's how someone described that incident:
 Over five thousand pages of manuscripts – the fruit of all the spare time he had been able to snatch from nearly fifteen crowded years of business life – had gone up in smoke... Having nothing but his nightshirt on when he escaped from the fire, he went down the street to provide himself with necessary clothing. As soon as this had been attended to, he bought a twenty-five cent notebook, and, while the ruins of the hotel were still smoking, began to rewrite from memory the manuscript of his dream book. 
The day i read this, i saw a man who understood pain and the effects and yet, understood the far-reaching importance of real work and development rather that wishing and sulking. It would have been very easy for such a huge setback to throw people into depression or worse today, but it did the exact opposite to Marden. The dream book i am referring to is Pushing To The Front. It was an instant best-seller and has been cited as a source of inspiration by very notable people around the world such as Thomas Edison, Henry Ford, etc.
I found the perfect recording of the book on Librivox about 9 months ago and i wrote a decent piece about it on Steemit. https://steemit.com/books/@pangoli/midnight-rants-07-book-in-view-pushing-to-the-front-don-t-give-up-yet
I invite you to listen, you'll not find better inspiration elsewhere!