A part of the answer for your question is available in the FAQ (Frequently Asked Questions) of Steemit.
A quote from the FAQ:
"Powering down - If you have Steem Power, you can power  down to turn it into liquid STEEM over a period of time. The system will transfer 1/13 of your Steem Power to STEEM each week for about three months (13 weeks), starting 1 week from the time it is started. However,  you will lose your influence in the network proportionally to how much is powered down, so think about it carefully. Power downs can be stopped  at any time."
How to do a Power Down?
Go to your Steemit wallet. Click on the amount of your Steem Power or on the down triagle, then click on "Power Down".
"Can I choose how much of my SP I want to power down?"
Yes, you can (and you must) set how much of your Steem Power you want to Power Down. Right after you made the previous step. After you click on the "Power Down" option, a window will appear. You can write the amount, or you can use a slider. The window will mention approximately how much Steem will you get weekly by the Power Down. For example: If you set 10 Steem, the window will mention "That's ~0.8 STEEM per week". You will find this mention above the "Power Down" button within the window (see the screenshot below). The slider in the screenshot below is showing the approximate percentage of the Steem Power in my account. The place of the slider in your case may be different. It is depending on how much Steem Power your account have.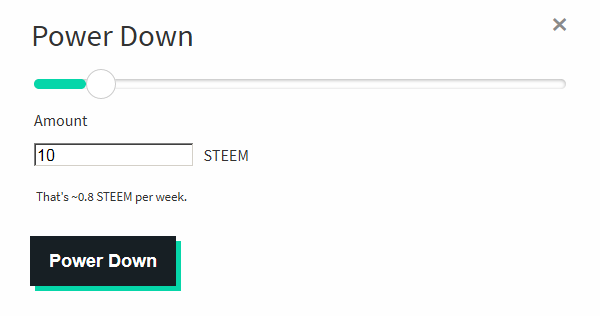 Image source: Screenshot.
Screenshot was taken on 2018.12.29, 20:20 CET.