I'm a great fan of steemhunt platform and love to answer this question. There are a number of ways that you can earn HUNT tokens currently which is simple as well believe me.
1. shuffle button - once you log in to the steemhunt platform you will notice a button which looks like two arrows in a circle. Clicking this shuffle button you earn HUNT tokens. How many tokens you will earn would depend on your rating and steemhunt level as well. The higher the rating and level you are in the higher the amount of HUNT tokens you get. To give a better example i.e. of myself - where I have got a rating of close to 7 and I'm currently at level 4 - I normally make 60-70 HUNT tokens in a day by clicking this, "Shuffle button". Isnt this a easy method to earn HUNT tokens. I would recommend you explore steemhunt.
2. Social share - this is another simple way of earning HUNT tokens. Sharing articles makes you eligible to earn HUNT tokens. The tokens you get again is based on the traffic received but is a simple way to earn extra tokens. I do make roughly 5-10 HUNT tokens via a social share.
3.Sponsors - as the name describes it - there are HUNT tokens for the folks who are the sponsors to the platform.
4. Promotion Contributors - this is tied to the promotions a person does may it via blog post, dtube video or any means. He gets rewarded with HUNT tokens.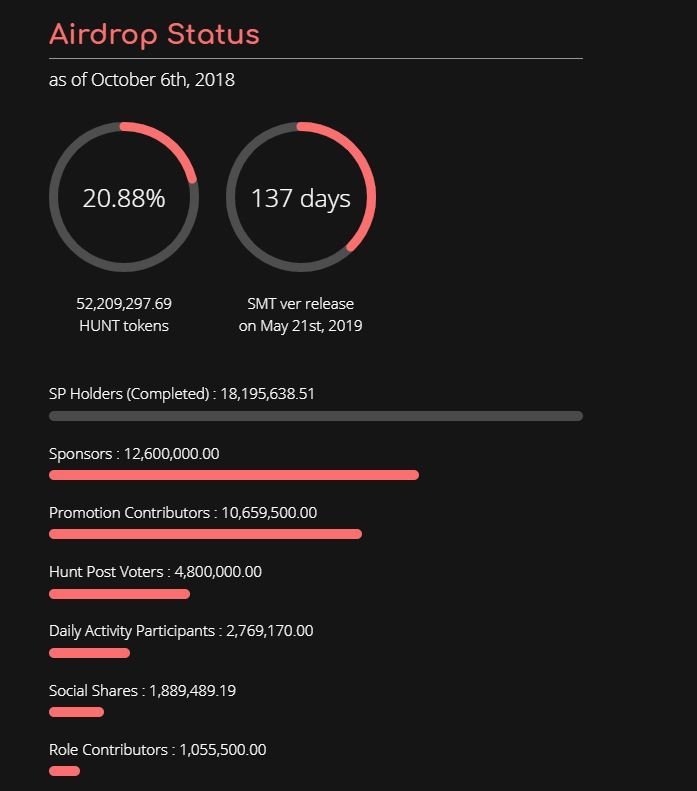 5. Daily Activity Participants - another simple mean is through engagement. The more you contribute i.e. comment hunts and upvote the more HUNT tokens you earn. Considering my example here - I do make rought 15-20 HUNT tokens daily with my daily engagement participation.
6. Role Contributors - this is for all the great moderators, influencers and folks working for the community. They are highly respected people who are working hard to get the platform up and running all the time and working towards the success of the platform. Hence, they are rewarded with HUNT tokens as well.
This is all I knew about the various ways you can get HUNT tokens. And I did encourage you and other folks to browse through the steemhunt platform as you will notice so many products which you would have never come across - roughly there are 200+ new products details shared on a daily bases. Post that makes it to top 100 is upvoted by the steemhunt platform itself which is high enough to get good rewards. i.e. may vary from $1-$20