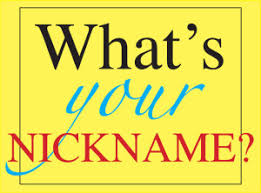 I actually got my nick name while I was still in school during my early stage at secondary school. I had very few friends then but I was very open and jovial to everyone. I do sometimes laugh about the story behind my nickname anytime I think about it even though it happened long time ago.
It all began when I started buying a particular iced drink called "lolly". I would always visit my school mini mart just to get that drink anytime it's time for break for the main purpose of relieving myself from the stress I went through during class activities. The astonishing fact is that I never knew they were actually some people watching me anytime I bought my "lolly drink."
To cut the long story short, I had a misunderstanding with one of my friend which led to the abuse or the insult of each other. I started calling him different names and he said a powerful word that got him the jackpot when he said "You don't know more than lolly". The whole class bursted into laughter and from the beginning of that day they've already started calling me lolly.
In conclusion, I think we sometimes get our nicknames as a result of what we do or what you are known for while some people may get their nickname by forming it themselves through their name. Anyways, I think I still feel comfortable with mine though.
Thanks for reading and I hope this helps.